Teaching Philosophy
In my teaching, I am committed to helping students understand how biology forms the basis of our understanding of fundamental life processes and the functioning of our natural systems as well as agriculture, nutrition, and medicine. As an educator, I am personally invested in the success of my students. I work to develop and strengthen each student's passion for independently acquiring knowledge from both within and outside of their discipline. Ultimately, I am committed to helping students achieve their goals by challenging them intellectually, supporting them in their learning process, inspiring them to believe in themselves, and fostering their unique talents. To achieve this end, I base my teaching philosophy on the following goals:
To train competent professionals to have in-depth technical expertise, are well-grounded in current trends, and appreciate advances in science.
To create intentional learners who have a love of learning and are equipped to address the challenges faced by a complex, global society from multi-contextual perspectives.
To promote integrative thinkers who are capable of cross-cutting thinking and who can connect, synthesize, and analyze information to make decisions and draw conclusions.
To engage 21st-century learners and create intentional, integrative thinkers who can solve problems from multiple informational sources and perspectives, I use innovative teaching approaches, including problem-based learning, collaborative learning, and a transdisciplinary curriculum. At TOCC, this curriculum brings in traditional knowledge along with the traditional core values.
Contributing to my success and innovation in curriculum design is coursework that I have pursued in science education. At the University of Arizona, I completed graduate courses in Educational Methodologies, Curriculum Design, and Assessment through the College of Education. I hold a post-baccalaureate certificate in secondary science education and a certificate in on-line curriculum design through Pima Community College. Through my recent NSF Opportunities for Underrepresented Scholars Fellowship, I completed a postgraduate certificate in Higher Education leadership which included and curriculum and design for the 21st century as well as an overview of trends in higher education.
---
Curriculum Projects (selected)
Problem Based Learning
As Principal Investigator on the NSF grant "Life in Balance: Using Problem-based Learning Models to Promote Sustainability and Improve Learning in Math and Science", I developed culturally-relevant, problem-based learning units using a unique indigenous educational model (Newberry et al 2016). These units were developed using an indigenous education model and framework based on the cultural symbol the "Man in the Maze" which represents a person's journey through life and reaching for one's dreams. These PBL units focused on the theme of "Sustainability through Life in Balance" by incorporating environmental sustainability, health, and well-being. The PBL units were infused with the unifying theme of sustainability and the four TOCC core values of T-apedag (health), T-pik-elida (respect), I-wemta (teamwork), and T-wohocududag (spirituality). This curriculum seeks to prepare our students for global engagement in meeting humanity's challenge of living sustainably by simultaneously drawing upon the wisdom inherent in the Himdag as well as current scientific knowledge.
Climate Change Curriculum
As part of an NSF-funded project, I collaboratively developed and taught a Global Change Biology class with colleagues from six other colleges. The course was designed to give students an interdisciplinary perspective on the causes and impacts of climate change. It also explored mitigation and adaptation strategies and provided Native American students opportunities to develop ideas about how Native American nations can respond to the challenges imposed by global climate change. This course includes a transdisciplinary module that was developed as part of a cross-institutional collaboration with Northern Arizona University for the National Council for Science and the Environment's Climate Change Adaptation, Mitigation, and eLearning (CAMEL) site. This transdisciplinary module integrates social science, water policy, traditional ecological knowledge, and climate change science. The goal of this module was to examine strategies for including indigenous knowledge and cultural traditions into water policy and environmental decision-making (Newberry and Trujillo, 2018).
TOCC Plant Atlas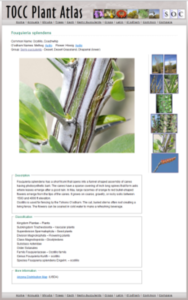 The "TOCC Plant Atlas" is a web-based teaching tool that provides a visually rich and culturally-relevant medium to relate native knowledge to scientific knowledge. The Atlas includes extensive imagery of numerous species of Sonoran Desert flora for multi-scale description and identification of plants. It merges Tohono O'odham traditional knowledge with scientific knowledge through the inclusion of the Tohono O'odham names as well as the scientific name of plants. The Plant Atlas includes audio of the Tohono O'odham names spoken by a native speaker, which strengthens its role in Tohono O'odham language preservation. It is an important medium for cultural and language preservation.
https://toccatlas.plantpress.net/
Service Learning
I employ service-learning and community engagement as teaching and learning strategies. I combine this with my own personal interest in teaching students about environmental sustainability through inquiry and activism. In my courses at TOCC, student-led projects have included community service as well as community and K-12 environmental education on topics such as traditional foods, biodiversity in the desert, recycling, and invasive plants. All service-learning projects culminate in a reflection paper.
https://tribalcollegejournal.org/tocc-students-celebrate-community-service/
---
Courses Taught
I have taught the courses below, some multiple times, at the institutions listed below. The first list gives a detailed description of courses currently or recently taught.
(TOCC): Tohono O'odham Community College
(PCC): Pima Community College
(UA): University of Arizona
(NAU): Northern Arizona University
Current and Recent Courses
BIO 105N: Environmental Biology (TOCC and PCC)
Fundamentals of ecology and their relevance to human impact on natural ecosystems. Includes ecosystem structure and function, population dynamics, and human impacts on air, water, land, and biodiversity. The course has a strong field experience component with field trips and outdoor activities related to class content.
Delivery: Traditional, Hybrid, and On-line. Online version was designed by me.
BIO 154N: Global Change Biology (TOCC)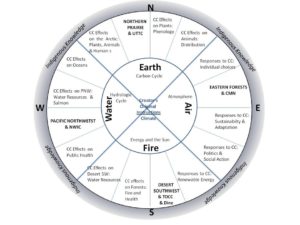 Climate change is addressed by exploring causes of past and current climate change while providing a strong contextual setting for Native American students based on their own culture and traditional ecological knowledge. Students will learn about and compare traditional knowledge with western science understanding of climate processes and effects. This course will explore mitigation and adaptation strategies for climate change impacts and will include an opportunity for students to develop ideas on how Native American nations can respond to a future of changing climate.
BIO 182N: Unity of Life II: Multicellular Organisms (TOCC and PCC)
This course is a survey of the principles of structure and function of living things at cellular, organismic, and higher levels of organization. Topics include the evolution, classification, diversity, and ecology of organisms, structure, and function of plants and animals, the structure of ecosystems, and the biosphere. This course will emphasize holistic perspectives of life emphasizing the unity within the diversity of life, the inter-relatedness of all living organisms, and the greater context for biological science.
BIO 208N: Tohono O'odham Ethnobotany (TOCC)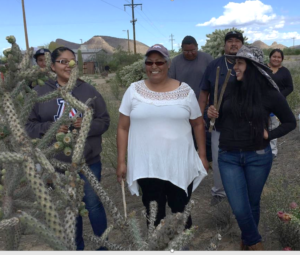 This course covers basic principles of botany, plant ecology, and the diversity of ways in which plants and the uses of plants have shaped cultural and historical developments of the Tohono O'odham. In this course, students will learn the fundamentals of plant classification and identification including the Tohono O'odham names of plants. Students will learn about the traditional uses of plants and their role in health and nutrition. They will learn about traditional plant harvesting methods as well as traditional and modern practices in plant cultivation. Students will also learn about the critical roles that plants play in the modern world and into a sustainable future. I designed this course.
BIO 298: Service Learning Capstone (TOCC)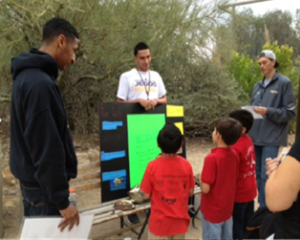 This is a capstone course that allows the student to gain experience by completing a service-learning project related to the concentration the student is pursuing within the field of science. Coordinated by faculty and community or institutional partners, this course places students in a service-learning position where the student can apply their knowledge and skills in real-world contexts. The student participates in the service-learning project supervised by a faculty member and, in some cases, a supervisor in the field.
BIO 299: Research Capstone (TOCC)
This capstone course provides science majors the opportunity to examine a specific topic related to the concentration the student is pursuing within the field of science. This work will culminate in the production of a thesis-style research paper or research proposal. Utilization of professional literature, both printed and electronic, will be required during the research process. Completion of this project will incorporate communication skills, knowledge of the process of science, and synthesis of scientific knowledge.
AIS 431/531: Traditional Ecological Knowledge (UA)
An introduction to the growing literature on traditional ecological knowledge and its relationships to the ecological and social sciences. This course covers characteristics of traditional ecological knowledge including a comparison with other knowledge systems, particularly those of formal science. Topics also include the utilization of traditional knowledge systems and explain relationships between TEK and sustainability, resilience, and adaptive management.
AIS 431/531: Traditional Ecological Knowledge (AILDI, UA)
This course covers characteristics of traditional ecological knowledge and explores the synergistic relationships between traditional ecological knowledge and indigenous language, indigenous education, sustainability, and tribal sovereignty. This course will explore the potential of using Indigenous language to fully understand and document knowledge about plants, the environment, and other Indigenous lifeways. The course will also provide tools to create TEK language-based curriculum and will feature examples of model projects.
Other Courses Taught
ENV 101, Environmental Science (NAU).
ANR 128N, Plant Ecology of the Sonoran Desert (TOCC).
ENV 199, Special Topics in Environmental Science (NAU).
GEO 464/564, Introduction to Dendrochronology (UA, co-taught with Steve Leavitt).
Bio 109N, Natural History of the Southwest (TOCC & PCC).
SCT 280, Science for Teachers (PCC).
Bio 181N, Biology for Majors: Unity of Life I (TOCC).
Bio 156N, Biology for Allied Health (PCC).
BIO 100N, Biological Concepts (TOCC).
CHM 080, Preparation for General Chemistry (TOCC).